from the family
08/22/2012
As we were sitting at a local restaurant waiting for lunch (almuerzo) one day, I took out my notebook and interviewed the kids with some random questions about our time in Cusco so far. I've added answers de Anne y yo, and hope that this gives a little more insight into what we are doing, seeing, and thinking.
What is your favorite food?
Alex: Delicrak (fried "almost popped" corn kernals)
Leah: Tortilla soup
Anne: Lomo Saltado
Noah: Sopa de adobo
What is your favorite drink?
Alex: Jugo Mixto (fresa y plateno y piña = strawberries, bananas, and pineapple)
Leah: Chicha Morada
Anne: Pisco Sour
Noah: Cerveza de Cusqueña
What do you like the most so far?
Alex: Going up the Pachacuteq tower (here's a picture from inside the tower de Pachacuteq)


Leah: Exploring Cusco (here's a picture of the city from the Pachacuteq tower)


Anne: The slower pace of Cusco, and meeting many interesting people from all over the world
Noah: Our new apartment in the South American Explorers club (here's a picture of the garden - our apartment is the window on the second floor behind the tree)

What do you like the least so far?
Alex: Bug bites!
Leah: Car pollution - stinky exhaust!
Anne: Noise pollution - car alarms and horns and fireworks/explosions for all of the fiestas
Noah: Cold showers!
What are you looking forward to the most in the next month?
Alex: Visiting Machu Picchu
Leah: Giving our host family's dog a present
Anne: Visiting Colca Canyon
Noah: Visiting Machu Picchu and climbing Huayna Picchu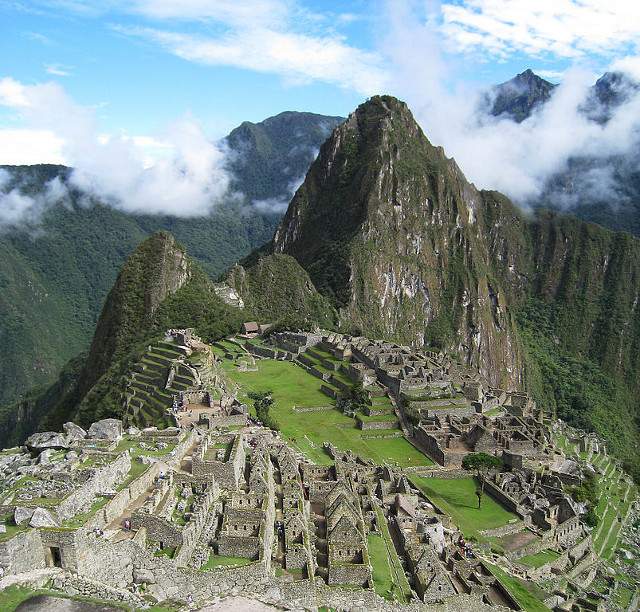 (from BootsnAll)
What have you learned that you are proud of?
Alex: Spanish
Leah: Spanish
Anne: How to order food and shop in Spanish
Noah: Spanish, and how to "be" in a new culture
What do you miss about home the most?
Alex: Zillah (our dog) and playing Minecraft on the computer


Leah: Same as Alex
Anne: Central Heating
Noah: Hot showers with good water pressure
What is the most interesting thing that you've seen so far?
Alex: Local girls with baby lambs trying to get gringo tourists to pay for pictures


Leah: People in traditional outfits


Anne: The way that women have their kids with them all the time - on their backs, at work, etc.


Noah: Condoms made out of chocolate

And we'll end with a quote from each of us:
Alex: "I'll walk in front" (Alex doesn't grasp the concept of following...)
Leah: "But, we're surviving..."
Anne: "This is normal!"
Noah: "I don't know what's in this soup, but it tastes good, so I'm gonna eat it"
Posted by noahv 18:16 Archived in Peru Tagged cusco observations thoughts Comments (5)